GW2 April 24 Current Events and Achievements Guide.
Survey on Subjects of Important – 1 AP
Go to Southsun Cove and talk to the NPCs near Pearl Islet Waypoint.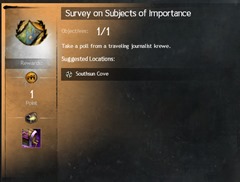 Talk to Achelle and answer a question for the achievement.
Reawakening Threat/Lost Invasion– 5 AP
Destroy a remnant Awakened champion  and Help fight off Awakened attacking Southsun Cove.
Make sure you still have your Phasic Distortion Reader. You will need to do invasion events from previous Current event back in January. Invasion happens every 30 minutes past the hour and only appears to occur on one single map this time and South Sun Cove appear to be one of the maps this round.
Event time table provided by that_shaman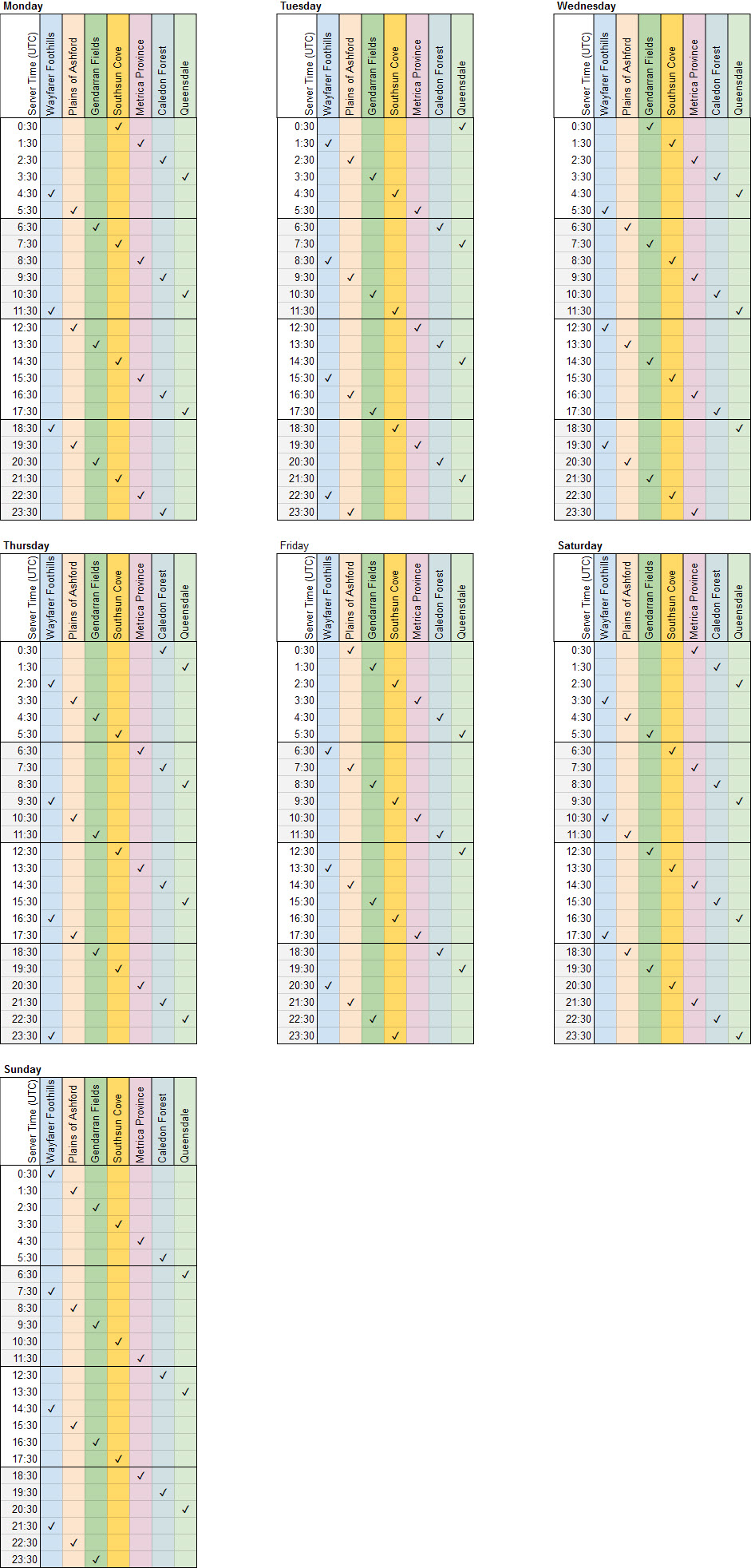 If you don't have your Phasic Distortion Reader anymore, talk to Sarettokk in Lion's Arch (Undermarket/Hoolidgan's Route) and re-purchase it.
Do one of the invasion events and when the champion pops up at near end of the event, kill it for the achievement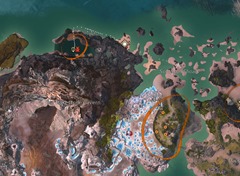 You will get the Lost Invasion achievement if you do the Invasion event on Southsun Cove and stay for the whole invasion.
Lost in Transit– 5 AP/Awakened Aftereffects – 5 AP
Locate unusual debris in Southsun Cove to help Ninn.You can only do this after completing Reawakened Threat. Special thanks to Rubik for locating the Debris pieces.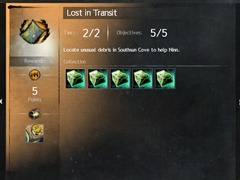 Ninn will be at your home instance.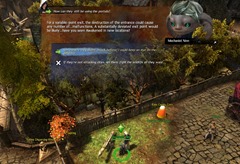 Unusual Debris Locations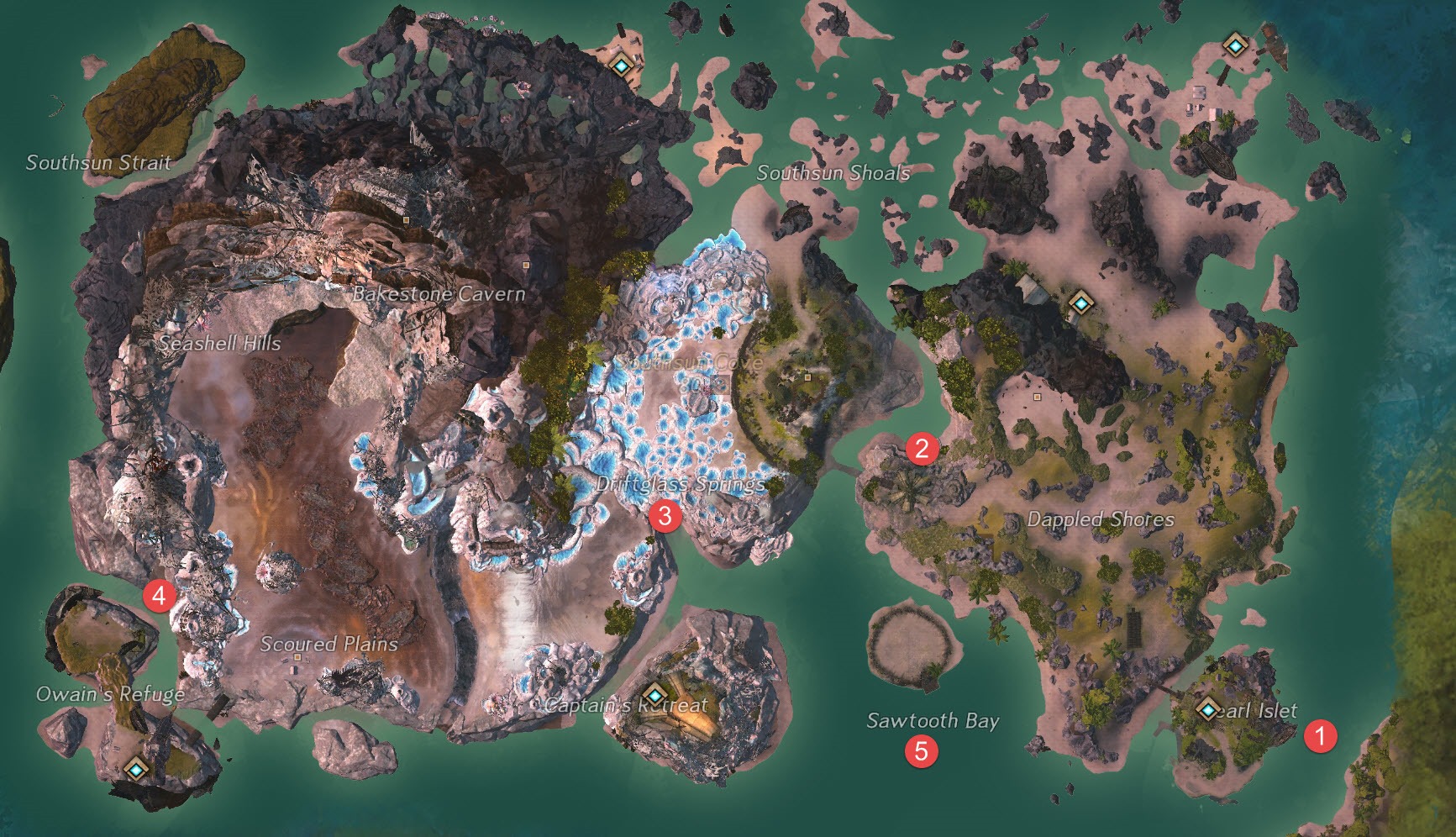 Unusual Debris 1 –  [&BNUGAAA=]
Vacationers at Pearl Islet heard a loud splash to the east several days ago.
Unusual Debris 2 – [&BAoHAAA=]
A guard at Steampipe Steading filed a report on an odd flash of light across the canyon.
Unusual Debris 3 – [&BNcGAAA=]
A local described seeing a small fracture – like portal north of Captain's Retreat.
Unusual Debris 4 – [&BNgGAAA=]
Consortium after-incident documents describe a brief light from the cliffs overlooking Owain's Refuge
Unusual Debris 5 – [&BNYGAAA=]
While diving for treasure in Sawtooth Bay, an adventurer sighted a disrupted portal. All the way at bottom of the ocean.
After you have all 5 debris, go back to Ninn and talk to him. He will tell you to come back after daily reset for the new device. After daily reset, talk to him again for the Awakened Aftereffects achievement.